Key highlights from Kaseya DattoCon 2023
Kaseya DattoCon 2023 just wrapped up last week in Miami, capping three days of workshops and insights from leaders throughout the tech industry.
This year's event brought together more than 3,500 managed service providers (MSPs) and IT professionals from around the globe. So it was another great opportunity for me and other industry leaders to learn, connect and get the latest updates on all-things Datto.
DattoCon has come a long way since its inaugural event in 2013, which reportedly had about 200 attendees! At Invenio IT, we've been with Datto from the beginning, so we've seen first-hand how the event (and Datto itself) has evolved and grown over the past decade.
Here are some of my takeaways from this year's event.
DattoCon 2023 was one of the biggest yet
Last year, I wrote about some uncertainty among MSPs following Kaseya's acquisition of Datto in June 2022. But if there were any lingering concerns, DattoCon 2023 put them to rest. This year's event was possibly the biggest yet. And, for many of us in attendance, it was a fresh reminder of the many good things coming out of the Datto-Kaseya merger.
As to be expected, there has been a lot of transition since last year's acquisition. But I was pleased to see that a lot of Datto's best people are still there, continuing to work hard at making Datto's backup solutions the best they can be.
Kaseya mentioned that this was a sellout event, with tickets selling out eight weeks in advance.
A more business-focused vibe
My first overall impression of Kaseya DattoCon 2023 is that it was straight to business. The vibe was a little "corporate" this year, and a little less "startup." The company wasted no time in recapping the progress made over the past year, as well as the road ahead. CEO Fred Voccola re-emphasized the core objectives of the merger in his keynote address, saying to MSPs: "We succeed when you succeed."
To that end, there were a lot more workshops at this year's conference. Lots of sessions aimed at helping MSPs grow their businesses and serve their clients better. These sessions covered nearly every aspect of an MSP's business: sales, marketing, ops, M&A and more.
I also noticed this year's event had more sponsors, which I think contributed to the overall corporate feel.
Clear objectives for the road ahead
Before speaking about the latest product developments at Datto, Kaseya's CEO took time to address the "why" and "how." He reminded us of the core objectives that are driving progress behind the scenes.
These objectives included:
Accelerating innovation: Voccola said Kaseya and Datto have hired more than 300 engineers in the past year in an effort to significantly expand product capabilities and develop new solutions.
"Datto-ify" the MSP experience: From the beginning, leaders at Kaseya saw great things in Datto's Partner Program. Over the last year, Kaseya has been working to replicate those successes and "infuse Datto culture and engineering expertise" into its many other divisions and companies.
Unifying the partner experience: Kaseya is continuing to build its new, consolidated partner platform into a single, comprehensive resource that can power virtually all aspects of an MSP's business.
In an effort to achieve those objectives, Kaseya recently surveyed MSPs to identify their current challenges. The core areas of MSP concern included automation, cybersecurity and application integration. Chief Product Officer Ranjan Singh said those challenges are the driving force behind Datto/Kaseya's ongoing product enhancements.
Product updates and announcements
New product announcements tend to be the most anticipated aspect of DattoCon each year. While there weren't necessarily any major, splashy releases this year, there was still plenty to celebrate about recent developments. Again, 2023 has been a year of optimizing the MSP experience (which ultimately enables us to provide better service and solutions for our clients: the organizations that depend on Datto's products for business continuity and disaster recovery, every day, all over the world).
Highlighted product updates include:
Datto RMM & M365 Integration: This integration has been a game-changer for many MSPs, allowing us to administer our Microsoft 365 tasks directly through the Datto RMM platform.
Datto RMM Web Remote: More streamlining goodness – this release connected RMM with Autotask, saving a ton of time for managing business-management tasks.
BCDR Endpoint Backup for Servers: Previously limited to PCs, Datto introduced this new BC/DR offering in 2023, which provides direct-to-cloud backup of servers.
One-Click Disaster Recovery: More of a tweak in marketing/messaging, Datto has begun promoting the term "one-click disaster recovery" to emphasize the ease and speed of its disaster recovery capabilities.
BCDR Hero Reports: These new reports have been a powerful tool for MSPs, helping to demonstrate the value of their services by pulling data from several Kaseya/Datto nodules.
EDR and Ransomware Rollback: Datto and Kaseya recently introduced a new Endpoint Detection and Response (EDR), as well as Ransomware Rollback capabilities, which have been integrated into Datto RMM and Kaseya VSA.
Datto Networking Advancements: Datto recently rolled out a new line of network switches and a cloud-managed Secure Edge SASE (Secure Access Service Edge).
Autotask Integrated Billing: This integration has helped to simplify and automate billing for MSPs, eliminating previously manual tasks.
Autotask Integrated Ticketing: More integration and automation between Autotask and other platforms to make ticketing and billing tasks more seamless.
Wide array of training and education
I was impressed by the number of training workshops at Kaseya DattoCon 2023, which offered ample opportunities for MSPs to expand their expertise and certifications. This was especially useful for Datto MSPs who are not as familiar with Kaseya's other products (and vice versa).
Some of the educational sessions included:
Kaseya Certified Administrator in Compliance Manager training
Kaseya Certified Administrator in Datto Networking training
Kaseya Certified Administrator in Datto RMM training
Kaseya Certified Administrator (KCA) in Autotask
There were also several moderated Peer Forums, which were small-group roundtable sessions that enabled MSPs to discuss a range of topics, from industry pain points to best practices.
Additionally, attendees had no shortage of breakout sessions to choose from, featuring speakers from Datto, Kaseya and other industry leaders.
Notable speakers and presentations
One of the biggest highlights from the event was the Day-2 presentation by Reggie Fils-Aimé, who was the president and COO of Nintendo of America from 2006 to 2019.
Fils-Aimé gave an engaging talk on "The Innovator's Rulebook for Breaking the Rules," which explored the principles of innovation and disruption – issues that have been central to Datto's and Kaseya's successes. He emphasized the idea of innovation as a mindset and a culture (rather than the ideas of a few upper-management executives). He also stressed the need to learn from failure and leverage it to create bigger, bolder, more successful ideas.
Other presentations included speakers in cybersecurity, cyber-insurance, IT asset management and MSP automation, to name a few.
Final thoughts
Overall, Kaseya DattoCon 2023 was a great event that was heavily focused on the MSP. Long before Kaseya merged with Datto, Datto was already known for making its partners a top priority as it became a new leader in BC/DR. I'm glad to see that Kaseya is equally committed to the MSP, which ultimately translates to even better service and solutions for our clients.
Questions about Datto backup?
Contact my team at (646) 395-1170 or email success@invenioIT.com for more information about Datto's business continuity and disaster recovery solutions, or request a free demo.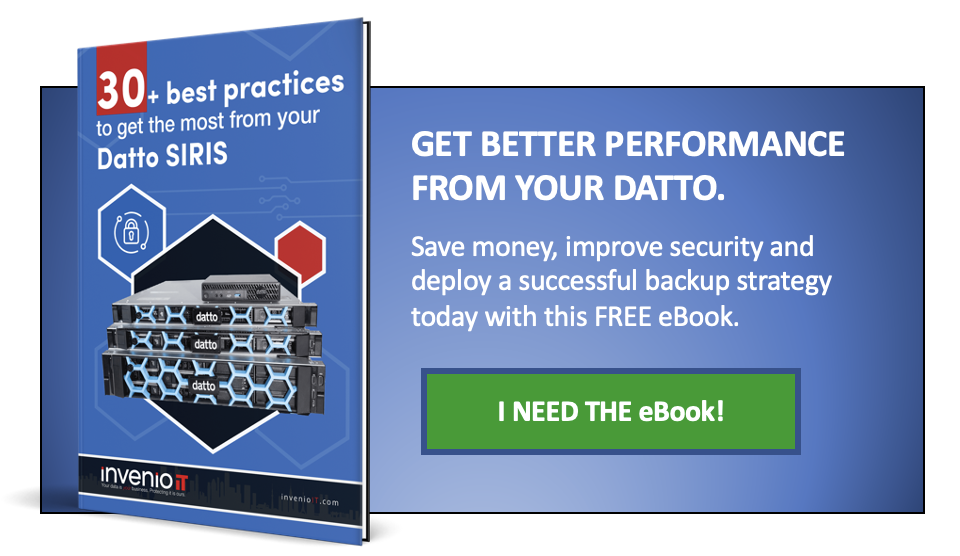 </div